E-vignette Czech Republic
Toll charges in the Czech Republic are collected through an e-vignette via the Edalnice payment system. The digital vignette is always linked to a vehicle registration number and can be purchased here at vintrica.com. At vintrica you can easily pay for electronic vignettes using PayPal, online banking or a credit card. After successful payment, you will receive a confirmation by mail containing all the relevant information about your vignette. If you want to be on the safe side, we can also send you a text message with all the information.
Toll roads
In Czechia, motorways are marked with "D" (Dálnice) and expressways with "R" (Rychlostní silnice). With a few exceptions, all motorways and expressways in the Czech Republic are subject to tolls.
Exceptions
The following motorway sections are exempt from a Czech e-vignette:
D0 Prague city ring road: partially toll-free
D1 Prague – Brno (exits 182-210)
D1 Brno – Ostrava (exit 354 to Polish border)
D3 Veselí nad Lužnicí Nord – Bošilec (exits 104-109)
D5 Pilsen – Prague (exits 89-67)
D6 Cheb – Karlovy Vary (exits 162-131)
D7 Chomutov – Louny (exits 18-78)
D11 Sedlice – Kukleny (exits 84-90)
D35 Sedlice – Opatovice (exits 126-129)
D35 Mohelnice – Olomouc (exits 261-276)
D46 Hněvotín – Olomouc, Slavonín (exits 37-39)
D48 Frýdek-Místek – Dobrá (exits 47-54)
D52 Pohořelice (exits 23-26)
D55 Otrokovice (exits 30-32)
You can also drive on the D2, D5 and D8 up to the first motorway service area without a vignette; the Czech toll only applies after this point.
Map
Click on the following map to get an overview of the compulsory tolls in the Czech Republic.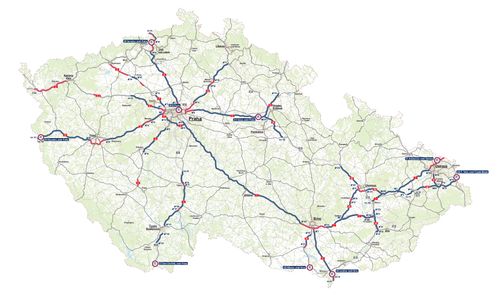 Regulations for cars and campervans
In Czechia, vehicles with a permissible total weight of 3.5 t need an electronic vignette for motorways and expressways. Motor vehicles with less than four tyres (motorbikes and trikes) do not need a Czech vignette. No toll is charged for trailers.
Therefore, there is only one toll category: Passenger cars up to max. 3.5 tonnes
Vignette obligation for all vehicles up to 3.5 tonnes permissible total weight
Vignette exemption for motorbikes, trikes and trailers
Prices and validity periods
You can choose between the following validity periods:
The vignette is always valid up to and including the last day (23:59) of the selected period.
Annual vignettes cannot be registered retroactively and are always valid for one year. For example, the annual vignette is valid from 17 March 2023 00:00 to 16 March 2024 23:59.
The original vignette prices are set in Czech crowns (Kč, CZK). We provide you with prices updated every hour in British pounds. The current exchange rate is: 1£ = 25 Kč
(Last updated: 03/10/2023 20:23 clock)
Please note that if you purchase your vignette online via vintrica.com, you will also be charged a service fee. As an independent toll portal, we take care of the registration with the toll operator for you. The service fee is shown in the last step of the order process.
Kategorie Standard price
Preisliste für die Kategorie Standard price
(EUR-Preise stündlich aktualisiert)
Laufzeit
Preis
in Kronen
Preis
in Euro
10 days
310 Kč
12.65 €
30 days
440 Kč
17.95 €
1 year
1 500 Kč
61.19 €
Sales points
You can purchase official e-vignettes for Czech motorways here at vintrica.com; vignettes are also available at vending machines at border crossings, Czech post offices and petrol stations of the EuroOil network, for example.
Fines
If you drive on Czech motorways without a valid e-vignette, you may face severe fines and penalties. We therefore recommend buying a vignette for your category before you set off. In addition, you should check the validity of the electronic vignette before and after purchase so that you can act quickly if there are any problems.
How is the toll controlled?
As in other vignette countries, the toll is mainly controlled by video surveillance after border crossings or motorway slip roads.
What penalties do I face without an e-vignette?
In Czechia, violations of the toll obligation are punished with heavy fines. Therefore, fines of up to approximately £730 are due for driving without a valid vignette. If the exemption of a vignette is abused, fines of up to approx. £6900 will be imposed. Fines are also levied for motor vehicles that do not have a registered exemption. Registration and deregistration of a vehicle with an exemption is required by law. For deregistering, you have a period of 10 working days. If you fail to do both, a fine of approximately £170 will be imposed.
Can I transfer my vignette?
No, you cannot transfer the vignette to other vehicles. You can only change the number plate on the vignette if the licence plate is lost, stolen or destroyed. Attach a copy of the document proving the change of the vehicle registration number to this form. We recommend that you have a copy of the vehicle registration papers showing both the previous registration number and the new number plate and VIN code.
Who is exempt from a vignette?
Since January 2021, the following vehicles have been exempt from a vignette obligation in the Czech Republic:
Transport of disabled persons with a Czech disabled person's card type ZTP or ZTP/P. The person holding the disabled person's card type ZTP or ZTP/P must be present during a check. Anyone with a disabled person's card not issued by the Czech Republic does not count as an exemption and is therefore obliged to purchase a vignette.
Vehicles powered by electricity or hydrogen and also vehicles equipped with hybrid drive. The CO2 emission value must not exceed 50 g/km
Historic vehicles with a special licence plate and a historic vehicle licence.
The exemption does not apply automatically, you have to apply for it with a form!
Tolls in neighbouring countries
The following neighbouring countries of the Czech Republic also have compulsory tolls to finance and maintain their motorways. More information on the motorway vignettes of the neighbouring countries and their validity can be found here: