E-vignette Slovenia
Toll charges in Slovenia are collected through a digital vignette (also called E-Vinjeta) via the Dars payment system. The motorway vignette is linked to a vehicle registration number and can be purchased online from vintrica. You can purchase the Slovenian vignette quickly and easily using PayPal, online banking or a credit card. A confirmation will be sent to your e-mail address and, if you wish, you will receive a text message confirmation that you can show at a checkpoint.
1: Motorcycles
Track narrower than 50 cm
2A: Cars and camper vans
Cars up to 3.5t with a height over the first axle of less than 1.3 metres or camper vans up to 3.5t
2B: Vans
Total weight up to 3.5t and height over the first axle greater than 1.3 metres
Toll roads
Tolls are compulsory on a total stretch of over 610 kilometres of Slovenian motorways and expressways. All roads marked with "A" and "H" can only be used with a valid e-vignette. Please note that slip roads belong to the respective motorways and expressways and therefore also require a vignette.
Motorways (avtocesta)
The following motorways require a vignette:
Štajerska-Primorska motorway
Šentilj – Maribor – Celje – Ljubljana – Postojna – Koper
Upper Carniola-Lower Carniola motorway
Karawanks Tunnel (special toll) – Kranj – Ljubljana – Novo mesto – Brežice – Obrežje
Sežana motorway
Divača – Fernetiči
Podravska motorway
Slivnica – Hajdina – Draženci – Gruškovje
Pomurska motorway
Dragučova A1 – Beltinci – Murska Sobota – Pince
Motorways (hitre ceste)
At the beginning of 2020, five expressways existed, some of which were upgraded to motorways in the course of motorway expansion and thus cease to exist in the blueprints, while others were downgraded to rural roads.
Northern bypass Ljubljana
Part of the Ljubljana ring road, link between A1 and A2
Northern bypass Ljubljana
Razdrto A1 – Nanos – Ajdovščina – Vrtojba
H5
Škofije – Dekani – Koper H6 – Dragonja
H7
Črni dol A5 – Dolga vas
Exceptions
Regional roads in Slovenia are exempt from the vignette obligation. There are also toll-free road sections as an exception, where no vignette is required:
A2 motorway: between Rosenbach (Austria) and Hrušica (Slovenia); toll is paid by using the Karawanks Tunnel
H6 expressway: between Koper-Semedela and Koper Lucija; due to a closure between Koper and Izola, you are diverted and allowed to use the Markovec tunnel without paying a toll
H1: between Pesnica and Tezno, has been downgraded from an expressway to a regional road
H2: has been downgraded from an expressway to a regional road
Map
Click on the following map to get an overview of all toll roads in Slovenia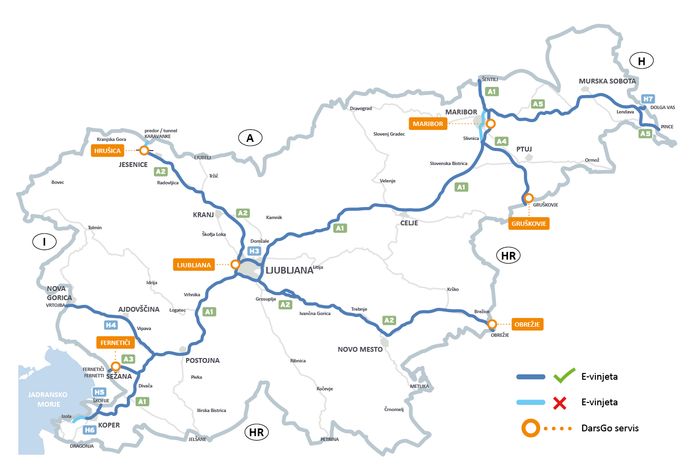 Karawanks Tunnel
The Karawanks Tunnel is excluded from the general vignette obligation in Austria and Slovenia, instead a special toll of around £6.70 is charged for passing the tunnel and can be paid on site at the Hrušica toll station. The special toll is only valid for a single trip through the tunnel and does not count as a return trip. Therefore, the points card for the tunnel is worthwhile for frequent drivers. With the points card, you can pass the tunnel 14 times in 30 days for around £30.20.
Regulations for vehicles
The fee depends on the vehicle you are driving. The following e-vignettes are available in Slovenia:
Width
≤ 50cm
1
Breite
> 50cm
2A
≤ 1,3m
≤ 3,5t
2A
≤ 1,3m
≤ 3,5t
2A
MAM
≤ 3,5t
2A
> 1,3m
≤ 3,5t
2B
Vignette obligation examples
Regulations for trailers
Trailers are not affected by the e-vignette Slovenia. You only have to buy the correct toll class for the towing vehicle.
Prices and validity periods
You can choose between the following validity periods:
1 week
1 month
6 months
1 year
The vignette is always valid up to and including the last day (23:59) of the selected period. Vignettes cannot be registered retroactively. Annual vignettes are always valid for the whole year from the start date.
Please note that additional service fees apply when purchasing the digital vignette online via vintrica.com, these are shown in the last step of the order process As an independent toll portal, we take care of the registration with the toll operator for you. All prices include VAT.
Toll class 1
Preisliste für die Mautklasse 1
Laufzeit
Preis
in EUR
1 week
8.00 €
6 months
32.00 €
1 year
58.70 €
Toll class 2A
Preisliste für die Mautklasse 2A
Laufzeit
Preis
in EUR
1 week
16.00 €
1 month
32.00 €
1 year
117.50 €
Toll regulations for lorries
For vehicles exceeding the total weight of 3.5 t, a route-dependent toll is charged. To log the distance, you must apply for a transponder from DarsGo and attach it to the inside of the windscreen. The cost depends on the kilometres driven in Slovenia, the number of axles and the Euro emission class. To register your vehicle in the DarsGo system: Click here.
Sales points
You can purchase the vignette for all vehicle categories in Slovenia here at vintrica.com, at petrol stations near the border or at DARS sales points.
Fines
If you drive in Slovenia without a valid vignette, you will be subject to heavy fines. We therefore recommend buying a digital vignette before you start your journey. In addition, you should check the validity of the electronic vignette before and after purchase so that you can act quickly if there are any problems.
How are tolls controlled in Slovenia?
The correct toll class and validity of the vignette is checked around the clock in Slovenia using video surveillance.
What penalties do I face without a vignette?
Fine for driving without a valid vignette.

| No vignette | Misuse of vignette |
| --- | --- |
| £260 | £690 |
Can I transfer my vignette?
Yes, you can transfer the e-vignette to a different licence plate number as long as the specified vehicle is in the same vehicle class. Changes can only be made for customers registered in the Dars online shop or at sales points where you purchased the digital vignette.
Who is exempt from a vignette?
According to Article 9 of the Toll Act in Slovenia, no toll is charged for the following vehicles:
Blue light vehicles
Military vehicles of the Slovenian army
Humanitarian aid
Foreign military vehicles for national defence
International peacekeeping forces
Vehicles of toll road operators
Tolls in neighbouring countries
The following neighbouring countries of Slovenia also have compulsory tolls to finance and maintain their motorways. More information on the motorway vignettes of the neighbouring countries and their validity can be found here: